Labrador Retriever sedan 1979
Uppfödning sedan 1987

Labrador Retriever since 1979
Breeding since 1987
ANDYCAP är en liten kennel med uppfödning av labrador retriever i hemmamiljö. Målet är att bedriva avel på välkända blodslinjer av hög kvalitet och att föda upp sunda och rastypiska hundar (av den normala typen, alltså inte s.k. jaktlabrador) med det utmärkta temperament som rasen är känd för: vänlig, glad, aktiv och med en stor samarbetsvilja. Det gör den till en uppskattad familjemedlem och till en foglig arbetskamrat för den som vill arbeta med hunden.

ANDYCAP is a small kennel with breeding of labrador retriever in the home environment. The goal is to breed from well-known blood lines of high quality and breed sound and true type dogs of the standard type (i.e. not the field trial working type) with the excellent temperament that the breed is famous for: kind, happy, active and with a genuine will to please. It makes it a popular pet dog and a good worker for those who wants to work with the dog.
---
Omplacering
Jag söker en ny bra familj till Stanley, en 6 månader gammal hane. Han har bott hos mig sedan han föddes. Han är världens snällaste och mest sociala kille man kan tänka sig! Han har aldrig varit sjuk eller haltat. Intresserade är välkomna att höra av sig.
---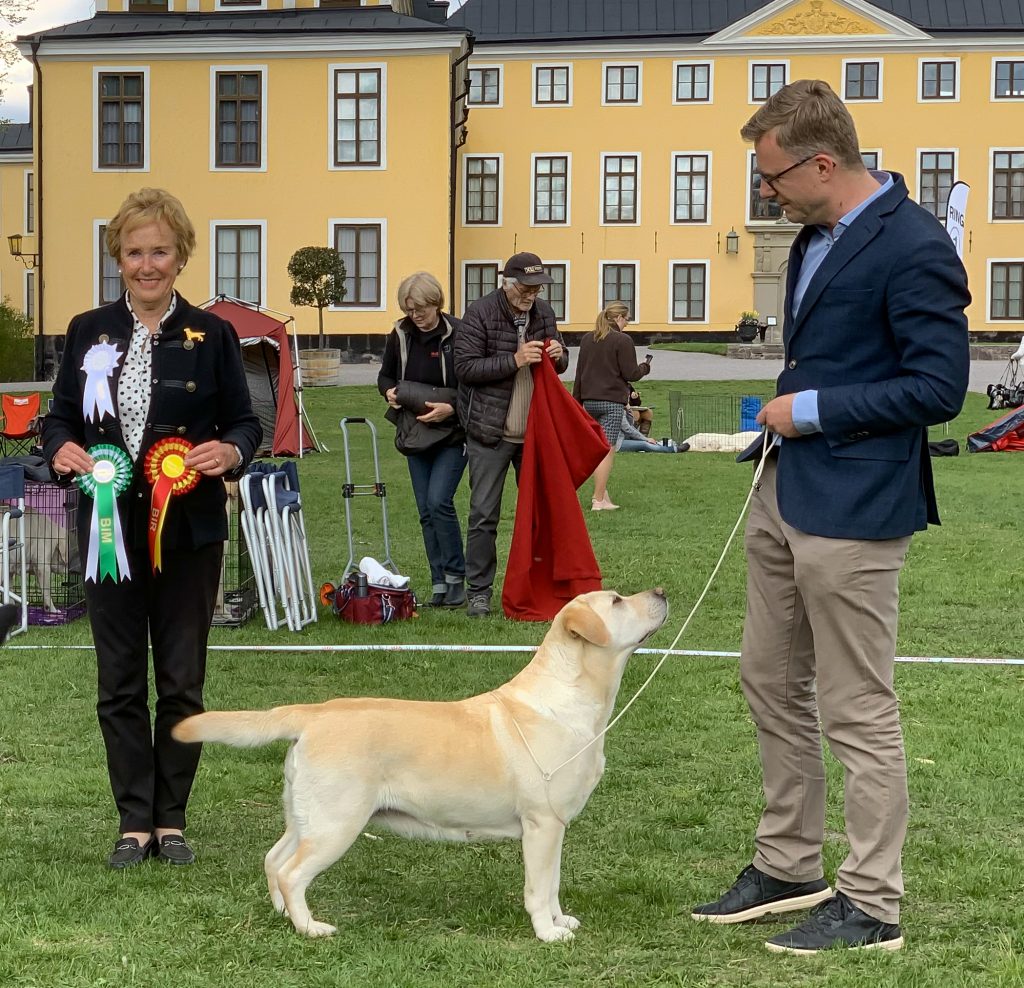 C.I.E. NORD UCH EUW-15 Diamond Dreams of Rocheby vann i maj 2019 sitt 13:e BIR av 99 labradorer på Spaniel och Retrieverklubbens utställning vid Ulriksdals slott. Varmt tack till domaren, den mycket erkände engelska rasspecialisten Heather Wiles-Fone (Heatherbourne kennel). "Gem" blev i finalerna BIS-3 av tolv raser.

C.I.E. NORDIC SH CH EUW-15 Diamond Dreams of Rocheby won in May 2019 her 13th Best of Breed out of 99 labradors at the Spaniel and Retriever Club's championship show at the Ulriksdals castle in Stockholm. Thanks to the judge, the highly respected English breed specialist Heather Wiles-Fone (Heatherbourne). "Gem" became Best in Show-3 out of 12 breeds.
---
Svensk juniorvinnare 2018
Swedish Junior Winner 2018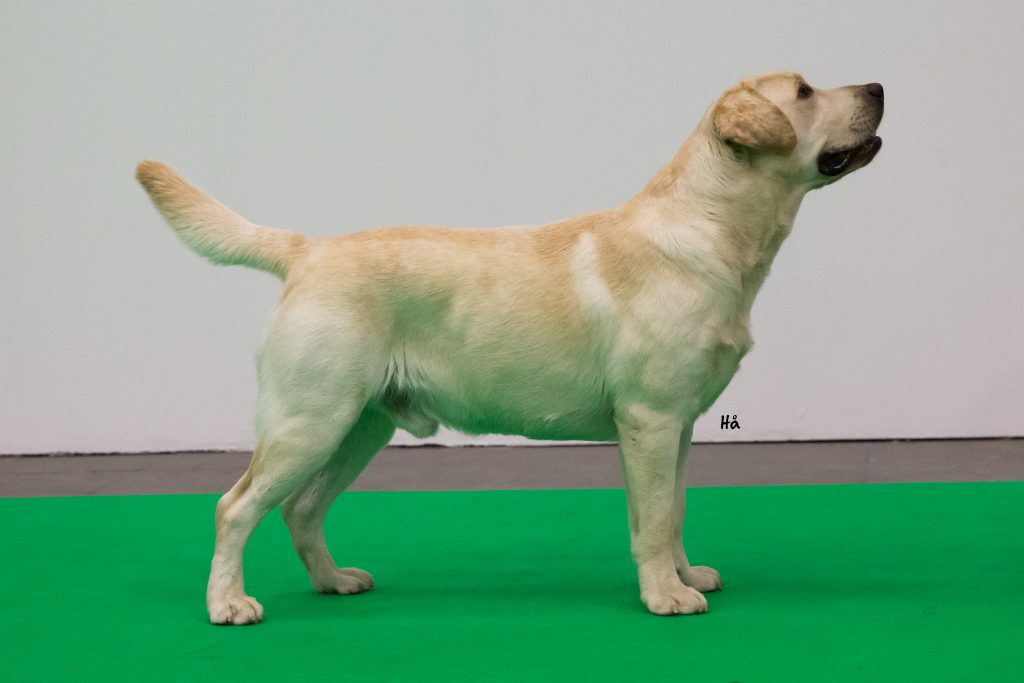 På Stockholm Hundmässa 2018 blev
SE JV-18 Andycap Executive
bästa junior bland 25 hanar och tikar!

At the Stockholm International Dog Show 2018
SE JV-18 Andycap Executive
became Best Junior out of 25 dogs and bitches!
---
Valpkull
En valpkull föddes den 15 november som planerat!
Läs mer på sidan Valpar.
Alla valpar är tingade.
Det finns inte någon ytterligare kull planerad just nu.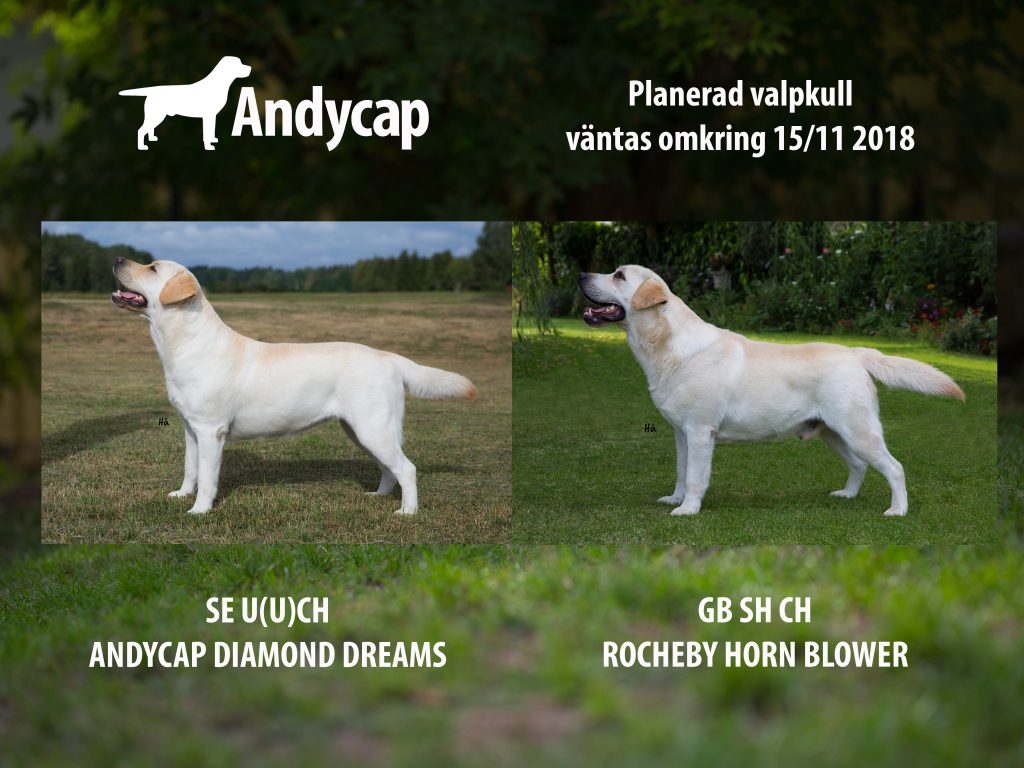 ---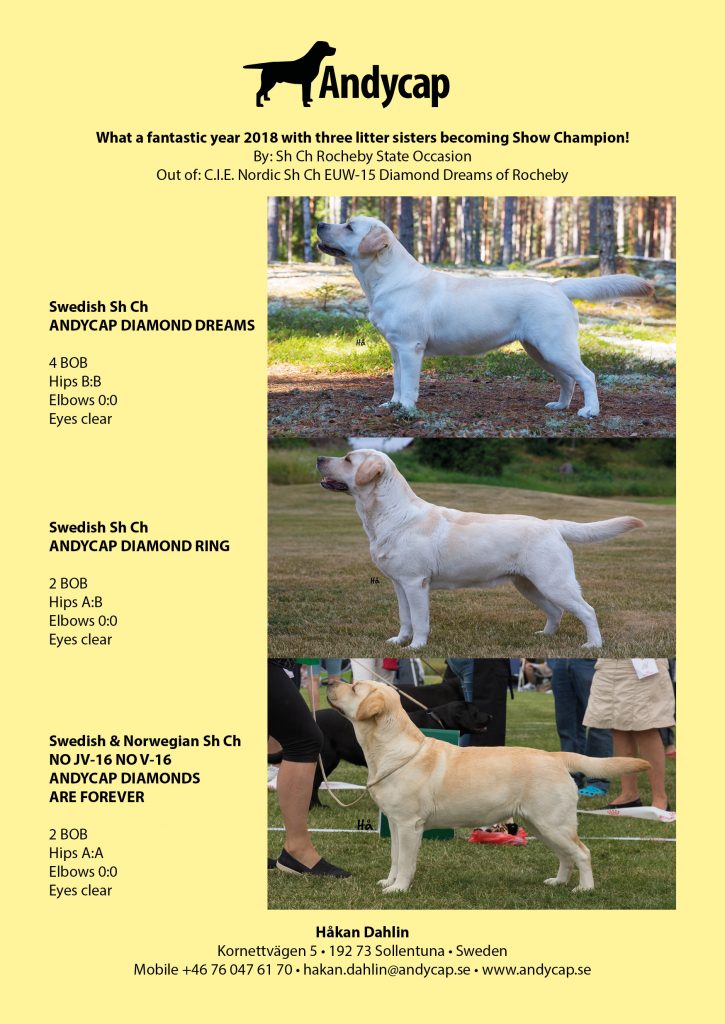 ---
Min fantastiska tik
Diamond Dreams of Rocheby
vann sitt 10:e BIR i Vejen, Danmark och blev vid 4 års ålder
INTERNATIONELL & NORDISK UTSTÄLLNINGSCHAMPION
EUROPEAN WINNER & BIR 2015
Fem månader efter att ha fött sin andra kull blev hon
BIR på SSRK Club Show 2018 av 101 labradorer.

My fantastic bitch
Diamond Dreams of Rocheby
won her 10th BOB in Vejen, Denmark and at the age of 4 years became
INTERNATIONAL & NORDIC SHOW CHAMPION
EUROPEAN WINNER & BOB 2015
Five months after having given birth to her second litter, she won BOB at the Spaniel and Retriever Club's annual Club Show out of 101 labradors.